U-Box Portable Storage and Moving Containers in Lenoir, NC at Fairway Tire & Appliance

(U-Haul Neighborhood Dealer)
Contact Us

Lenoir, NC 28645
Office Hours
Mon–Sat

9 am–5 pm

Sunday

1 pm–5 pm

Free towing inspection
24 hour customer return
Services at this Location:
U-Box Portable Storage and Moving Containers in Lenoir, NC 28645
U-Box containers provide a convenient, flexible and secure way to move and store your belongings. Whether you're moving across town or across the country, portable storage containers are the perfect solution. We can deliver them to your door so you can take your time loading your belongings. If you need us to store your containers while you're staging you home or waiting to close on your new place, rest assured your things are safe in one of our many neighborhood U-Haul locations. When you're ready we can deliver them to your new home or store as long as you need. Not moving? You can keep the container on your property for as long as you need, whether doing a remodel or clearing out your garage or basement.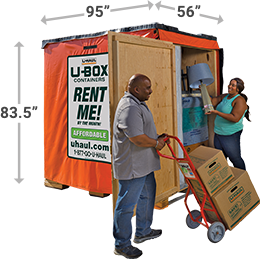 A U-Box container fits about a room and a half of household items. If you got it into your house, you can get it into a U-Box.
Internal Dimensions:

95" X 56" X 83.5" (LxWxH)

Capacity:

257 cubic ft

Weight:

Up to 2,00 lbs.
Moving Tip: If you aren't sure you can fit all your belongings in your U-Box container, order and extra! Unlike our competitors, we only charge you for what you use.
How does it work?
The best part about using U-Box® containers for a move or as a portable storage solution is you have the flexibility and control to plan the perfect move. You can ship to your new home or store until you know where you're going. We give you the opportunity to plan each.
Choose the number of containers you need. One

U-Box

container fits about a room and a half of household items. When in doubt get an extra–we won't charge you if you don't use it.
Tell us when you will need to access the container. If you ship it to a new city but don't need it yet, we can store it for you at our secure warehouse.
We deliver the containers to you and pick them up when you're ready. If you would rather take it home yourself, use our specially built trailer or pack it at a

U-Haul

location.
We will store your container at our secure warehouse or we can ship anywhere in the world. You will hear from us when the container is in transit and when it arrives at its destination.
Other
U-Haul

Services
We have the most coverage in North America!

U-Haul is North America's #1 hitch installer!

Propane service delivered straight to your door!
Customer Reviews
Average Customer Rating
Let us know what you think.
Your valuable feedback will help us serve you better.
Write a review
Rating:

5.0
완벽한 이사

Joungim L. 
Rating:

4.0
UHaul connected us with BetterMover (Lenoir?). This team was superb.

Dan L. 
Rating:

1.0
I would NEVER recommend UBox. I've rented U-Haul many times in the past but that was renting a truck and driving it myself. The customer service I received was appalling. Hold times 50 minutes to over an hour many times and then getting rerouted to a department that couldn't help me. I even had a girl hang up on me 3 times. My delivery was changed to another date without my consent. I had to raise heck for it to be delivered on the date my contract indicated - and at this point I was in tears. I thought by speaking to Sarah, an executive within the scheduling department, would give me some relief as far as somebody hearing a customer's complaint and having some compassion. What she did was not surprising based on everyone else I dealt with. She told me that I needed to confirm within 24 hrs of delivery in order to keep the date. I told her that I did confirm and spoke to someone and so did my daughter (the furniture was going to my daughter but I created the contract, the contract and phone number was in my name, and I was paying for everything). My daughter's name and phone number was only ADDED after the Box arrived in San Diego as a secondary contact number. She told me that my daughter was the primary person on the order- and then blamed it on another department for the mix up. Her final words to me was "well, your order got there on time, so what's the problem?" What's the problem? Do you know how many hours I spent on the phone just to get some answers? And that is someone's answer- someone who is representing this company? Well she represented it exactly as I saw it. She was the icing on the cake. No apology- nothing. I was appalled! Spend a little more money and get the Pod or a trucking company but this was a nightmare.

Jennifer Kathy P. 
Rating:

5.0
This was a great experience. A little confusion because of the remoteness of the loading location. Thank you VERY much

Jane J. 
Rating:

5.0
Both pods were delivered and unloaded. Wes and his son provided excellent service and were very helpful. I highly recommend them.

Suzanne A. 
No reviews have been submitted for this location.