U-Box Portable Storage and Moving Containers in Jefferson, OH at A PlusTowing

(U-Haul Neighborhood Dealer)
Contáctanos
Jefferson, OH 44047
(Intersection of Netcher Rd and Rt 193 1 Mile South of Rt167)
Horario
Mon–Fri

8 a. m. - 4 p. m.

Sábado

7 a. m. - 4 p. m.

Domingo

9 a. m. - 1 p. m.
Horario especial
Inspección gratuita del remolque
Devolución del cliente 24 horas
Servicios en esta ubicación:
U-Box Portable Storage and Moving Containers in Jefferson, OH 44047
Los contenedores U-Box proporcionan una forma conveniente, flexible y segura de transportar y almacenar tus pertenencias. Whether you're moving across town or across the country, portable storage containers are the perfect solution. We can deliver them to your door so you can take your time loading your belongings. If you need us to store your containers while you're staging you home or waiting to close on your new place, rest assured your things are safe in one of our many neighborhood U-Haul locations. When you're ready we can deliver them to your new home or store as long as you need. Not moving? You can keep the container on your property for as long as you need, whether doing a remodel or clearing out your garage or basement.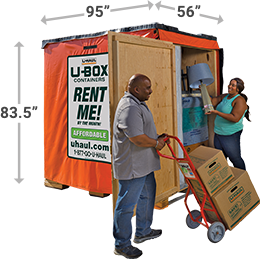 En un contenedor U-Box cabe una habitación y media de artículos del hogar. If you got it into your house, you can get it into a U-Box.
Dimensiones internas:

95 in X 56 in X 83.5 in (L. x An. x Al.)

Capacidad:

257 pies cúbicos

Peso:

Hasta 2,00 lb
Moving Tip: If you aren't sure you can fit all your belongings in your U-Box container, order and extra! A diferencia de nuestra competencia, solo te cobramos por lo que usas.
¿Cómo funciona?
Lo mejor de usar contenedores U-Box® para una mudanza o como solución de almacenamiento portátil es que tienes la flexibilidad y el control para planificar la mudanza perfecta. Puedes enviar tus pertenencias a tu nuevo hogar o almacenarlas hasta que sepas a dónde irás. We give you the opportunity to plan each.
Elige la cantidad de contenedores que necesitas. One

U-Box

container fits about a room and a half of household items. When in doubt get an extra–we won't charge you if you don't use it.
Dinos cuándo necesitarás acceso al contenedor. Si lo envías a una nueva ciudad pero no lo necesitas aún, podemos almacenarlo por ti en nuestro depósito seguro.
Enviamos los contenedores hasta donde estés y los recogemos cuando estés listo. Si prefieres llevarlo a casa por ti mismo, puedes usar nuestro remolque especialmente construido y empacarlo en una ubicación de

U-Haul

.
Almacenaremos tu contenedor en nuestro depósito seguro o podemos enviarlo a cualquier lugar del mundo. Te avisaremos cuando el contenedor esté en camino y cuando llegue a destino.
Otros servicios de
U-Haul
Comentarios de clientes
es la calificación promedio de clientes
Cuéntanos qué piensas.
Tus comentarios valiosos nos ayudarán a proporcionar mejores servicios.
Escribir un comentario
Clasificación:

5.0
Nothing that I can think of. The guys at this location were great - thanks!

CHARLES J. 
Rating:

5.0
The U Box container workout quite well for us moving from Geneva Ohio to Roswell New Mexico

Roy S. 
Rating:

5.0
Ohio was excellent and they worked with our schedule excellently. reno needs to work on stuff

Lynne G. 
Rating:

5.0
The moving process with u-haul was straight forward. There were some minor bugs, but were basically my misunderstandings of the process and u-haul quickly resolved any issues. I would definitely use u-haul again and recommend.

Marc K. 
Rating:

5.0
I don't know if it could've gone any smoother. Our ubox arrived 4 days early and was dropped off at the apartment literally 30 seconds after we pulled in. Nothing was damaged and we wouldn't hesitate to use the ubox again.

Don L. 
Rating:

5.0
Initial contract was hard but once they understood what we needed things straightened out. Great job

Patricia G. 
No reviews have been submitted for this location.