U-Box Portable Storage and Moving Containers in Bemidji, MN at Golden Eagle Transportation

(U-Haul Neighborhood Dealer)
Contact Us
Bemidji, MN 56601
(S Of Lake Bemidji on Paul Bunyon Drive)
Office Hours
Mon–Fri

9 am–4 pm

Saturday

9 am–3 pm

Sunday

Closed
Services at this Location:
U-Box Portable Storage and Moving Containers in Bemidji, MN 56601
U-Box containers provide a convenient, flexible and secure way to move and store your belongings. Whether you're moving across town or across the country, portable storage containers are the perfect solution. We can deliver them to your door so you can take your time loading your belongings. If you need us to store your containers while you're staging you home or waiting to close on your new place, rest assured your things are safe in one of our many neighborhood U-Haul locations. When you're ready we can deliver them to your new home or store as long as you need. Not moving? You can keep the container on your property for as long as you need, whether doing a remodel or clearing out your garage or basement.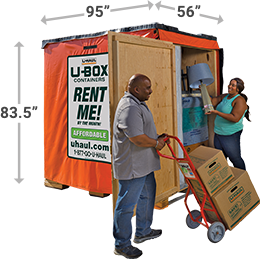 A U-Box container fits about a room and a half of household items. If you got it into your house, you can get it into a U-Box.
Internal Dimensions:

95" X 56" X 83.5" (LxWxH)

Capacity:

257 cubic ft

Weight:

Up to 2,00 lbs.
Moving Tip: If you aren't sure you can fit all your belongings in your U-Box container, order and extra! Unlike our competitors, we only charge you for what you use.
How does it work?
The best part about using U-Box® containers for a move or as a portable storage solution is you have the flexibility and control to plan the perfect move. You can ship to your new home or store until you know where you're going. We give you the opportunity to plan each.
Choose the number of containers you need. One

U-Box

container fits about a room and a half of household items. When in doubt get an extra–we won't charge you if you don't use it.
Tell us when you will need to access the container. If you ship it to a new city but don't need it yet, we can store it for you at our secure warehouse.
We deliver the containers to you and pick them up when you're ready. If you would rather take it home yourself, use our specially built trailer or pack it at a

U-Haul

location.
We will store your container at our secure warehouse or we can ship anywhere in the world. You will hear from us when the container is in transit and when it arrives at its destination.
Other
U-Haul

Services
Customer Reviews
Average Customer Rating
Let us know what you think.
Your valuable feedback will help us serve you better.
Write a review
Rating:

5.0
Went like clock work all good Ty

Ilana F. 
Rating:

4.0
The hutch had significant damage. Glass panel was shattered, the back was cracked and a large piece of the trim was snapped off. Very sad. The mover who delivered it said the tie used to secure it was too tight. We have filed a claim for damages.

scott M. 
Rating:

1.0
This entire experience was a mess. I would suggest customer service training for the staff in Bemidji (how to treat customers; how to be polite). My UBoxes were a day late in Illinois. Worse yet, no one knew where my Uboxes were. I would educate staff to know how to look up where the Uboxes are. I had TWO employees tell me they had no idea where my boxes were or when they would arrive (as my family and I stood in drive waiting for them). No one was helpful except for BEN ZION (Who should be given a massive bonus in my mind). He helped me after 1.5 hours on the phone; 4 transfers; and multiple screw ups. ANGIE who delivered the boxes was simply AMAZING. She must work out of Peoria, IL. She was professional, engaging, efficient, and personable. In the brief time, she was at our house, I felt like she really cared. She navigated a VERY busy and dangerous road with finesse and amazing safety techniques. I think she should be president of Uhaul. : ) I suggest that you review this case for what BEN & ANGIE did correctly. And, commend them. Also, PLEASE seriously review this cluster of an order. I think I should have some type of refund for the Uboxes being late and no one knowing where they were (except Ben). We literally stood on the drive for hours waiting, waiting, until your staff told me multiple times they had no clue where my boxes were. (Customer service education on how to word this better?). Anyway, I doubt I use this service again.

Amy F. 
Rating:

1.0
Unfortunately, we had a TERRIBLE experience using the UBoxes. Our things sat at the Uhaul center 1 mile away from our house for 9 days, but no one told us there was a delay and we might not get our things on time. My husband and a friend flew from Minnesota to North Carolina to meet the boxes that were "guaranteed" to be there. Not only did they not show up on the guaranteed day, no representative could find our belongings. We were told there is no way to track the trucks, and that they aren't allowed to contact the drivers. The origin end (town of Bemidji) said it was a problem on the receiving end, and the receiving end (Garner, NC) said it was a problem on the Bemidji end. After waiting in town for 2 days, my husband eventually just went to the Uhaul location and found our things himself. For the first time, someone (her name was Precious) was helpful to my husband. But still, my husband and his friend had to rent a truck and load, move, and unload the things himself. He and his friend had to stay 4 nights in a hotel instead of sleeping at our new house with the beds etc that were supposed to arrive. He and I spend 2 full days calling every number we could find, and no one would help us. At one point a manager named Gwen in Garner said she had to wait until the Phoenix office opened and she would call us back. She never did, and every time we tried to reach her she was "in a meeting." We have cancelled the second part of our move with Uhaul that we had scheduled for next month. We figured with a national company like Uhaul, there would have been someone that could have tracked our boxes and told us when they would arrive. We haven't been offered any reimbursement or any apology, just "there's nothing we can do on our end" with every person we spoke to.
No reviews have been submitted for this location.