U-Box Portable Storage and Moving Containers in Stuarts Draft, VA at Sours Automotive

(U-Haul Neighborhood Dealer)
Contáctanos

Stuarts Draft, VA 24477
Horario
Lun. - jue.:

9 a. m. - 5 p. m.

Fri–Sat

10 a. m. - 2 p. m.

Domingo

Cerrado
Horario especial
6/9/2023 - 6/26/2023:

cerrado

Devolución del cliente 24 horas
Servicios en esta ubicación:
U-Box Portable Storage and Moving Containers in Stuarts Draft, VA 24477
Los contenedores U-Box proporcionan una forma conveniente, flexible y segura de transportar y almacenar tus pertenencias. Whether you're moving across town or across the country, portable storage containers are the perfect solution. We can deliver them to your door so you can take your time loading your belongings. If you need us to store your containers while you're staging you home or waiting to close on your new place, rest assured your things are safe in one of our many neighborhood U-Haul locations. When you're ready we can deliver them to your new home or store as long as you need. Not moving? You can keep the container on your property for as long as you need, whether doing a remodel or clearing out your garage or basement.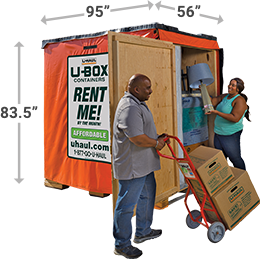 En un contenedor U-Box cabe una habitación y media de artículos del hogar. If you got it into your house, you can get it into a U-Box.
Dimensiones internas:

95 in X 56 in X 83.5 in (L. x An. x Al.)

Capacidad:

257 pies cúbicos

Peso:

Hasta 2,00 lb
Moving Tip: If you aren't sure you can fit all your belongings in your U-Box container, order and extra! A diferencia de nuestra competencia, solo te cobramos por lo que usas.
¿Cómo funciona?
Lo mejor de usar contenedores U-Box® para una mudanza o como solución de almacenamiento portátil es que tienes la flexibilidad y el control para planificar la mudanza perfecta. Puedes enviar tus pertenencias a tu nuevo hogar o almacenarlas hasta que sepas a dónde irás. We give you the opportunity to plan each.
Elige la cantidad de contenedores que necesitas. One

U-Box

container fits about a room and a half of household items. When in doubt get an extra–we won't charge you if you don't use it.
Dinos cuándo necesitarás acceso al contenedor. Si lo envías a una nueva ciudad pero no lo necesitas aún, podemos almacenarlo por ti en nuestro depósito seguro.
Enviamos los contenedores hasta donde estés y los recogemos cuando estés listo. Si prefieres llevarlo a casa por ti mismo, puedes usar nuestro remolque especialmente construido y empacarlo en una ubicación de

U-Haul

.
Almacenaremos tu contenedor en nuestro depósito seguro o podemos enviarlo a cualquier lugar del mundo. Te avisaremos cuando el contenedor esté en camino y cuando llegue a destino.
Otros servicios de
U-Haul
¡U-Haul es el instalador de enganches N.° 1 de América del Norte!

¡Servicio de propano entregado directamente en tu puerta!

¡Tenemos la selección más amplia de la industria!
Comentarios de clientes
es la calificación promedio de clientes
Cuéntanos qué piensas.
Tus comentarios valiosos nos ayudarán a proporcionar mejores servicios.
Escribir un comentario
Clasificación:

1.0
Poor communication, delayed delivery, transferred several times when calling customer service.

Cesar C. 
Rating:

5.0
Phone system and online chat not very effective. Frequently dropped from phone call after very extended holds, or dropped on 'transfer'. Phone customer help system is not acceptable. Personnel seem good when contacted. Would be good to have a "auto call-back" option, and statement of hold times.

Victor E. 
Rating:

5.0
I had mostly large boxes and totes and was going across the country, so the U-box was definitely a better option for me. Cost-wise it was maybe a bit higher than getting a truck and all the fuel and towing my car, but I didn't have to worry about finding parking for a truck and trailer for 4 or 5 nights and that was entirely worth it to me. My experience was very positive, it made the trip and the move a lot less stressful. Packing the box was easy and it shipped out quickly. My box arrived well ahead of schedule, which was great. Make sure to let the destination know at least 24 hours ahead of when you want to retrieve your things when they arrive, I had a bit of trouble with the paperwork at the end because of that but all my things arrived perfectly with very little shifting.

Wendy E. 
Rating:

5.0
Incredibly friendly staff that helped out with my questions about delivery and pick up.

Diane P. 
Rating:

1.0
Worse experience with any company I have ever had period. Do not use uhaul for interstate travel.

gregory D. 
Rating:

1.0
The folks at Sours Automotive acted like it was a burden to give us access to our UBox once it arrived late. Additionally, we just had to cancel a credit card due to fraudulent charges three months in a row from UHaul for "car rental" and "other travel" five months after we completed our business with UHaul. Completely unimpressed.

Christina W. 
No reviews have been submitted for this location.