U-Box Portable Storage and Moving Containers in Saint George, UT at Sunbrook Secure Storage

(U-Haul Neighborhood Dealer)
Contact Us

Saint George, UT 84770
Office Hours
Monday–Friday

9 am - 12:30 pm

/

1:30 pm - 5 pm

Saturday

9 am–12:30 pm

Sunday
Closed
Special Operating Hours
Services at this Location:
U-Box Portable Storage and Moving Containers in Saint George, UT 84770
U-Box containers provide a convenient, flexible and secure way to move and store your belongings. Whether you're moving across town or across the country, portable storage containers are the perfect solution. We can deliver them to your door so you can take your time loading your belongings. If you need us to store your containers while you're staging you home or waiting to close on your new place, rest assured your things are safe in one of our many neighborhood U-Haul locations. When you're ready we can deliver them to your new home or store as long as you need. Not moving? You can keep the container on your property for as long as you need, whether doing a remodel or clearing out your garage or basement.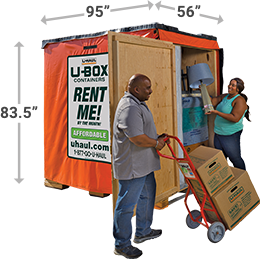 A U-Box container fits about a room and a half of household items. If you got it into your house, you can get it into a U-Box.
Internal Dimensions:

95" X 56" X 83.5" (LxWxH)

Capacity:

257 cubic ft

Weight:

Up to 2,00 lbs.
Moving Tip: If you aren't sure you can fit all your belongings in your U-Box container, order and extra! Unlike our competitors, we only charge you for what you use.
How does it work?
The best part about using U-Box® containers for a move or as a portable storage solution is you have the flexibility and control to plan the perfect move. You can ship to your new home or store until you know where you're going. We give you the opportunity to plan each.
Choose the number of containers you need. One

U-Box

container fits about a room and a half of household items. When in doubt get an extra–we won't charge you if you don't use it.
Tell us when you will need to access the container. If you ship it to a new city but don't need it yet, we can store it for you at our secure warehouse.
We deliver the containers to you and pick them up when you're ready. If you would rather take it home yourself, use our specially built trailer or pack it at a

U-Haul

location.
We will store your container at our secure warehouse or we can ship anywhere in the world. You will hear from us when the container is in transit and when it arrives at its destination.
Other
U-Haul

Services
Customer Reviews
Average Customer Rating
Let us know what you think.
Your valuable feedback will help us serve you better.
Write a review
Rating:

4.0
I wish there were a better way to track where the boxes are.

Oscar Z. 
Rating:

5.0
first time i rented a pod for my daughter. excellent service delivery, pickup and delivery and allaround great experience. highly recommened to any one.
Rating:

5.0
Excellent service, very professional.

Jeffery E. 
Rating:

5.0
Unfortunately, once my container left the St George area I wasn't contacted about it's whereabouts or when I could pick up. I called the Lexington Park, MD location multiple times to see when I could pick up. My order form was VERY misleading and stated I could pick up on 2/9 and return the pod on 2/11. I was never notified on 2/9 about pick up. I called on 2/10 and was told my pod was there but I can't pick up. I was finally able to pick up my pod on 2/11 but again had to call to make sure someone would be there to assist. Several of my items were broken in the process upon opening my pod.

Lynsie S. 
Rating:

5.0
Sun room Secure Storage was super friendly and helpful. They alerted me when the box arrived and worked with me to arrange its delivery — I hadn't had an address when I arranged the UBox so couldn't make the delivery arrangements in advance, but Debbie and Chris kept notes, made arrangements with my mover, and the whole thing was fast, easy, and flawless. The all-metal UBox was super sturdy and weather-tight for the cross-US winter trip. Very, very happy! Thank you Debbie and Chris! Also, used Troy Gent at Pack Rats to unload the box: it took us 3 days to load the box and Troy and his guy just 30 minutes to unload! Up to a third floor walk-up apartment!! Everything was carefully carried and placed in the apartment, and Troy and his guy could not have been friendlier, more helpful, or more courteous— they were GREAT! Very, very happy with this entire experience! Thank you Troy!

Roberta M. 
No reviews have been submitted for this location.