U-Box Portable Storage and Moving Containers in Plattsburgh, NY at Don Jerry X-Plo E-Z Sto

(U-Haul Neighborhood Dealer)
Contáctanos
Plattsburgh, NY 12901
(South Of Rt 3)
Horario
Lun. - jue.:

8 a. m. - 4:30 p. m.

Viernes

8 a. m. - 2 p. m.

Sat–Sun

Cerrado
Devolución del cliente 24 horas
Servicios en esta ubicación:
U-Box Portable Storage and Moving Containers in Plattsburgh, NY 12901
Los contenedores U-Box proporcionan una forma conveniente, flexible y segura de transportar y almacenar tus pertenencias. Whether you're moving across town or across the country, portable storage containers are the perfect solution. We can deliver them to your door so you can take your time loading your belongings. If you need us to store your containers while you're staging you home or waiting to close on your new place, rest assured your things are safe in one of our many neighborhood U-Haul locations. When you're ready we can deliver them to your new home or store as long as you need. Not moving? You can keep the container on your property for as long as you need, whether doing a remodel or clearing out your garage or basement.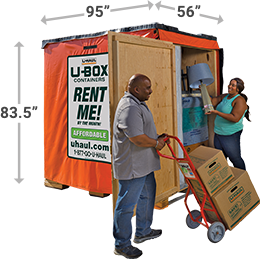 En un contenedor U-Box cabe una habitación y media de artículos del hogar. If you got it into your house, you can get it into a U-Box.
Dimensiones internas:

95 in X 56 in X 83.5 in (L. x An. x Al.)

Capacidad:

257 pies cúbicos

Peso:

Hasta 2,00 lb
Moving Tip: If you aren't sure you can fit all your belongings in your U-Box container, order and extra! A diferencia de nuestra competencia, solo te cobramos por lo que usas.
¿Cómo funciona?
Lo mejor de usar contenedores U-Box® para una mudanza o como solución de almacenamiento portátil es que tienes la flexibilidad y el control para planificar la mudanza perfecta. Puedes enviar tus pertenencias a tu nuevo hogar o almacenarlas hasta que sepas a dónde irás. We give you the opportunity to plan each.
Elige la cantidad de contenedores que necesitas. One

U-Box

container fits about a room and a half of household items. When in doubt get an extra–we won't charge you if you don't use it.
Dinos cuándo necesitarás acceso al contenedor. Si lo envías a una nueva ciudad pero no lo necesitas aún, podemos almacenarlo por ti en nuestro depósito seguro.
Enviamos los contenedores hasta donde estés y los recogemos cuando estés listo. Si prefieres llevarlo a casa por ti mismo, puedes usar nuestro remolque especialmente construido y empacarlo en una ubicación de

U-Haul

.
Almacenaremos tu contenedor en nuestro depósito seguro o podemos enviarlo a cualquier lugar del mundo. Te avisaremos cuando el contenedor esté en camino y cuando llegue a destino.
Otros servicios de
U-Haul
Comentarios de clientes
es la calificación promedio de clientes
Cuéntanos qué piensas.
Tus comentarios valiosos nos ayudarán a proporcionar mejores servicios.
Escribir un comentario
Clasificación:

5.0
Get better , more reliable people to empty the uhaul boxes

Sharon F. 
Rating:

3.0
The Plattsburgh, NY staff were very nice and helpful. We had many issues on the Prescott, AZ side with the initial delivery of the boxes.

Carrie B. 
Rating:

5.0
Joanie is awesome!

Robin W. 
Rating:

2.0
I had a beyond horrible experience with properly receiving my pod on time, in addition to other ridiculous circumstances. I will be calling corporate soon to communicate my grievances with both locations.

Felicia H. 
Rating:

4.0
There was some initial confusion, as the Burlington VT store where I reserved the boxes did not have any, so I had to drive two hours to Plattsburgh NY. At Plattsburgh they initially said that I had to return the box the very next day, which was impossible given the distance that I had to travel. However, that was the only glitch in the process. Our boxes arrived in Memphis on time, and with zero breakage that I have found so far- and we shipped a LOT of breakable items. I want to give a special shout out to the driver who dropped off our boxes in Memphis. She was friendly, worked quickly and efficiently, and even came back later the same day to pick up the empty boxes. She had mentioned that she's worked for U-Haul for 4 years now. Speaking as an HR professional, employees like her are hard to find!

DAVID H. 
Rating:

1.0
The staff was friendly, helpful when on the phone with them, but so many mistakes were made! Terrible communication, follow-up and they just couldn't get it right. It seems like staff on the phone don't make enough notes or set things up correctly and maybe you rely on the automated system too much. We waited for our stuff for over 2 months, we were originally given a delivery location that apparently doesn't exist. Our stuff was delivered without communication to us to a different state, the only way I knew was that my card got charged, things promised were not delivered without me spending hours on the phone, speaking to several staff members, there were never any notes from the last person they spoke with-it was like starting all over again with each phone call. In order to get what was promised they had to pull phone calls which I waited days for and again did not get that call, I had to call back and start all over again. They set up delivers in places that aren't close to us without communicating and continued to charge us the entire time due to errors and delays on u-hauls end. I finally spoke to a regional manager who got everything set up, and I was re-imbursed. I got a phone call confirming delivery finally on 1/3/22 (we put our stuff in the ubox in October). The guy got there couldn't get up our driveway so we were unable to have the box for 2 days as promised. My husband had to unpack the ubox so they could take the box with them. The next day I was charged, which they were supposed to be doing it for free due to all of the errors. I called and they credited that charge but the fact I was charged in the first place is frustrating as there should have been notes so that did not impact us and I didn't have to make yet another call during my work hours. They also charged me again in December which they promised wouldn't happen b/c the delays were not our fault and when speakig to Todd on the phone yesterday we were charged. Todd re-imbursed both charges for Dec. and Jan., however very unorganized, terrible follow-through and communication and lack of accuracy. with u-haul overall. Terrible experience and will never use you again. My daughter lived without her stuff for 2 months-and personally I don't feel you should charge us for anything. I think you should re-imburse us the cost of the ubox period. This situation did not reflect your business in a very good light and I will warn friends if they are thinking of this route.

Tracie D. 
Rating:

5.0
This was our first time using U-boxes and we were extremely pleased with the experience. Nothing was damaged in the move and we were able to pack things that was logical for us. I would recommend the service to others.

Wendy B. 
Rating:

5.0
The staff for the MOVING COMPANIES I used as well as the local storage facility were amazing and wonderful. Handyman Movers staff and the staff at D&J Storage were awesome, attentive, and took care of everything. Could not recommend THEM more. YOUR staff is atrocious, and I have gone out of my way to write negative reviews for Uhaul as a company. You are awful. Will never use again.

Allison C. 
Rating:

2.0
To start,, the office staff were very nice and accommodating but what ever occurred after we returned the box was not good.. We are so unhappy with our service. We were told and it is written in the contract that we'd have a "gentle ride" for our box. The video shows how it's loaded on a big trailer and shipped down. Ours was not! It was put incorrectly on the same sized tow behind trailer that it was on when we got and loaded it. The side was damaged on the way down and our well packed items inside were damaged. The door was so jammed it was open on one side where some items fell out somewhere along the way. The otherside of the door was so jammed it took a crow bar and hammer to be able to open. The people at the Myrtle Beach UHaul have been amazing and so helpful. They deserve accolades but whomever was responsible for scheduling the trip down was negligent. We have asked for our nearly $1000 . back as we absolutely didn't get what we paid for and we have damage to many items that were well packed, bungied and wrapped. Some items were antique and not easily repaired. We have also, with the help of the Marty at Myrtle Beach UHaul are submitting a claim for the damages. I said the box arrived on time. We had been told and it is in our emails it would be in Myrtle Beach on the 2nd or 3rd of September..available for pickup on the 3rd or 4th (I don't have the email in front of me). Imagine our surprise when we got a call on Sunday the 29th of August that it had arrived overnight Sat and showed damage and they wanted us to come look at what was falling out the bottom back.

mrs J. 
Rating:

5.0
Customer service was great. One of the U boxes had the bottom brake. Still assessing damage

Ann G. 
Rating:

1.0
It cost over $3,000.00 to transport a single u box from Texas to Vermont, and every step involved additional fees. I could simply repurchased every item that was in that box for the same amount and skipped the hassle all together.

William S. 
Rating:

5.0
A move from northern New York California was made very simple and easy THANK YOU Uhaul. everyone I spoke with were very friendly and helpful,

Luke F. 
No reviews have been submitted for this location.